SEEKING GOD'S DREAM FOR A NEW CHURCH IN WACO TO REACH NEW PEOPLE FOR JESUS.
The LCMC Texas District is facilitating a church replant in Waco, Texas. After 68 years of faithful ministry, the aging and declining congregation of Christ Lutheran has handed over leadership to the Officers of LCMC Texas District for the purpose of developing a new worshiping community to proclaim Christ in new ways to new people in the neighborhoods on the north side of Waco.
Christ Lutheran has left the church plant a church building on 2.7 acres located on an arterial road through the residential neighborhoods known as the North Side of Waco, which, oddly enough, are actually located directly west of Downtown Waco!
The church property is located at the intersection of the Landon Branch and Dean Highland neighborhoods on MacArthur Drive. This residential neighborhood is well established and an incredibly diverse community calls it home. Our hope is to gather a diverse community of neighbors into a new fellowship that is united in Christ Jesus and joining Jesus in his mission in the community.
THRALL NATIVE ACCEPTS CALL TO LEAD WACO MISSION AS PASTOR AND CHURCH REPLANTER
BY PASTOR BRYCE FORMWALT, DIRECTOR OF MISSION GROWTH
I am so excited to share about our latest church planting endeavor and introduce you to the missionary family who has accepted God's call to move to Waco and replant Christ Lutheran Church! Chris Meyer has been called to live on mission and redevelop a community of faith to reach new people on the north side of Waco.
Chris hails from Thrall, Texas where he currently resides with his wife, Kelli, and their children: Wesley (13) and Claira (11). He is enrolled in Harvest Workers, our online ministry training program and serves as the program's Student Recruitment Coordinator. He is employed full time by the State of Texas, working remotely as an EMS Specialist for the Department of Health and Human Services. Kelli currently works for an assisted living facility in Taylor and is pursuing a nursing degree.
According to Chris, God got his attention through several events, including an Emmaus weekend, a men's retreat, and a Texas District Gathering. Each was a key milestone in his faith journey as he began to hear God calling him to deeper faith and service in mission. He has been an active member and leader at St. John Lutheran in Thrall and served as a minister with Fellowship of Christian Athletes (FCA). In the Thrall community, he has served on the school board as well as the volunteer fire department as a board member, firefighter, and medical first responder. Over the past 18 months he has been a regular supply preacher for LCMC congregations across in Texas giving him invaluable ministry experience.
During the search process, Chris and Kelli took part in two lengthy interviews and several objective assessments, including an extensive behavioral assessment conducted by a Lutheran pastor with over 20 years of experience assessing church planters. Throughout the process, Chris and Kelli's call to this missionary work continued to be affirmed.
The Meyer family intends to relocate to Waco this summer. In order for this move to be possible, several building renovations are required. Chris is currently developing a plan and budget for the renovation project and we are actively seeking financial partners who can help fund the necessary facility repairs to accommodate the Meyer family and help them get started in Mission.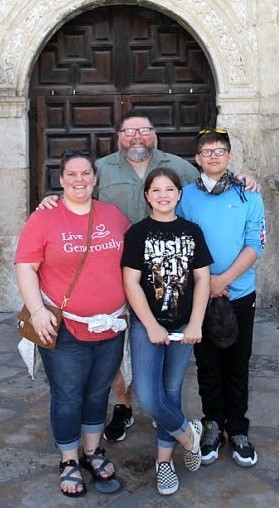 THE MEYER FAMILY
Kelli, Chris, Claira, and Wesley